It's a Woman's World
Who runs the world? Girls. It's not surprising I can't sum it up better than by quoting each half of our generation's most dominating duo. Please tell me you didn't think I meant Kimye. No celebrity couple can shine a light to Jay Z and B as a dominating force, although some may try. The past two weeks, especially in fashion, women continue to prove this is indeed a ladies world and you boys, you're all just living in it.
J. Crew's boss lady, reigning as president and creative director, Jenna Lyons, a girl crush in her itself, has publicly acknowledged her lesbian relationship with Courtney Crangi. Crangi is said to work as an executive at her brother's jewelry company. It's complete speculation but one can't help think Lyons's divorce from her husband of nine years may have stemmed from the major success experienced after taking control of J.Crew. Her fearless expression of gratitude towards Crangi in her Glamour Women of the Year acceptance, for showing her "new love," was nothing short of admirable. It's hard to shy away from loving the free spirit nature of Lyons's life, success, and aesthetic. I thought Jay Z and Beyonce were a dominating duo, but two fierce and fashion savvy women? Showtime's former show the L Word, full of unbelievably attractive lesbians, couldn't even compare to these two.

"Yes, folks, a lesbian can be stylish.

And not just kind of stylish, but

really

stylish. In fact, two lesbians can be stylish," stated the Huffington Post. This lesbian power couple share not only a bed but fabulously unique style as well. Both women know how to create the effortless look of informal and formal mixed with the masculine and feminine. If anything else is dominating this year besides women, it's women dressed like men.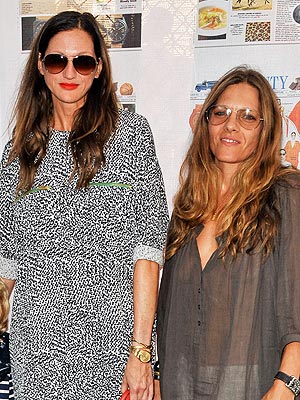 Karl Lagerfeld showed his support for female couples in his recent Chanel haute couture show in Paris. Lagerfeld artistically expressed advocacy for legalizing gay marriage by topping off his show with sending two female models in bridal couture gowns down the runway holding hands.
"Of course it was," was Lagerfeld's response when asked if the utilization of lesbian couture at his show was to express his support for gay marriage.
Lastly, the highly acclaimed HBO TV show fittingly titled, Girls, experienced prominent recognition for such a young show at this years Golden Globes. Pushed to HBO and produced by Judd Apatow, I'd like to think his awareness of the potential popularity of this show originated from his marriage to comedian female beauty, Leslie Mann, another lady power house.
Namely Girls won for best television series - musical or comedy, over the older Big Bang Theory and Modern Family. A major privilege for the new TV show and young quirky creator Lena Dunham. As Beyonce, the female version of a hustler, said herself, "We're smart enough to make these millions, strong enough to bare the children, then get back to business. Who runs the world? Girls!"
bumpshack.com, styleite.com, people.com, oprahnyc.com, forbes.com, thedailybeast.com, metro.co.uk, ktvz.com, tvguide.com, globalpost.com.