gocitygirl.com






Addition Was Easier in Middle School
Ever walk around a store collecting the items you're planning to purchase, only to arrive at the cash register and find you were far off from the grand total calculated in your head? Very far off usually. Maybe it's the tax? Or wishful thinking? Either way I'm already at the cash register. The poor cashier has already totaled all the items, neatly folded and wrapped them in tissue paper, I very well can't decide to change my mind and put an item or two back NOW. Furthermore, how would I ever choose? I already struggled to narrow down the specially selected items that would make it all the way with me to this very spot. I can't narrow the selection down even more. I don't believe in putting myself through that much pain. It is a bit of a damper I have to now reluctantly switch over to pay with my credit card as opposed to a debit card. Was there ever a truer symbol of an irresponsible purchase versus a financially comfortable purchase? Debit card payments say, "I'm solid, I can afford this and then some;" while a last minute switch of the debit to credit card screams "Ah, I'm not rich enough to buy this but I'm gonna. I'm irresponsible as f*ck!" But hell, what's a credit card for anyway. I'll plan to pay it off next month. Or next, next month.
Well this very post is being done as a coping mechanism. The past few days I've found myself with a compulsively dangerous purchase button clicking habit. I can't stop. So, in an effort to sustain my weekly salary for a drink or two at the bar this weekend, I will post what I want as opposed to click to purchase. Yes, clicking is so much easier but I must keep reminding myself that Christmas quickly approaching and I can add onto that list that's began growing since December 26th of last year. I pride myself on being a birthday fanatic for others so might as well keep the spirit alive, even if it is for a man's birth whom I never met whose father I don't necessarily believe in. That's neither here nor there. Christmas is more so about that big jolly man who travels down a chimney anyway, right?
I will know I have succeeded in this effort filled post when Christmas comes and goes and I am lacking several items below and am actually okay with it. That's an image of me taking strides in the selfish-less track. Far fetched, yes. And to be honest I'd rather selfishly back step in fashion than make moral process in bad clothes. (I don't mean that Dad.)
I will lose sleep until I know this b.a. All Saints leather jacket is on its way to me.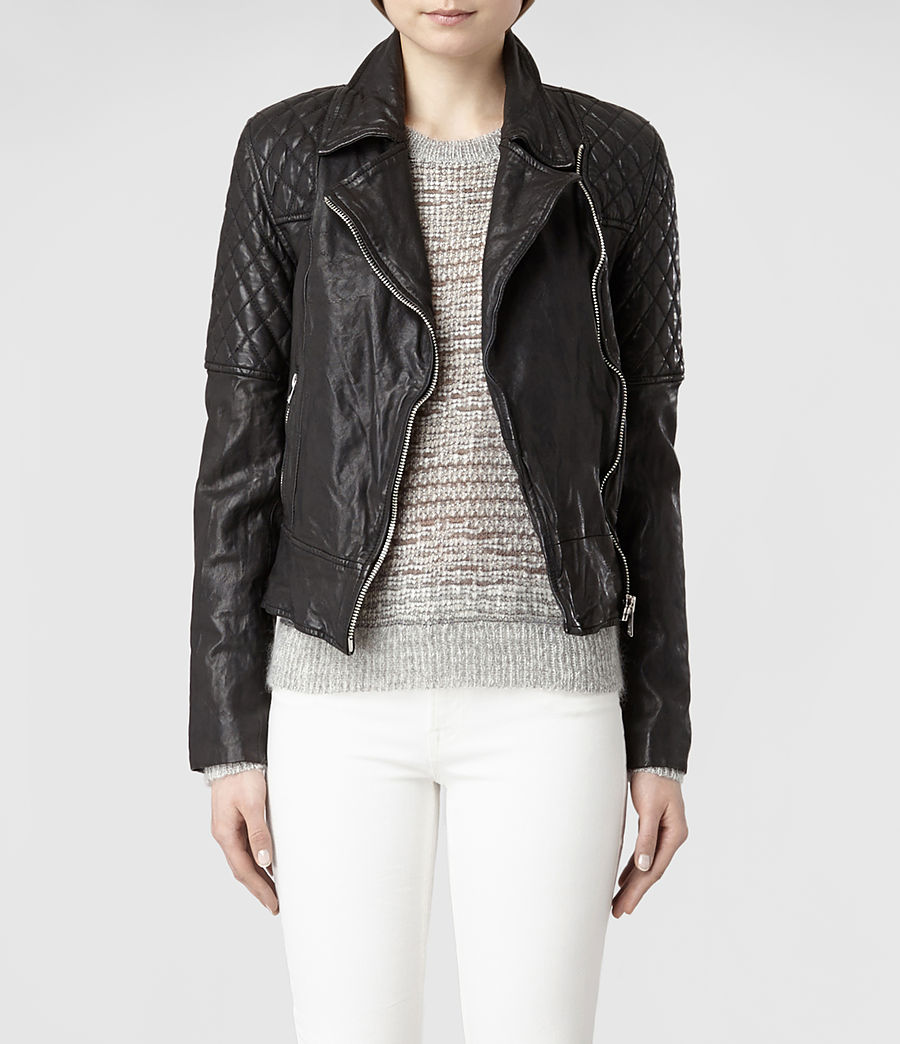 us.allsaints.com
Okay, this one is a white lie. When I was under the influence of my unavoidable shopping addiction I bought this Ariel Gordon dual birthstone ring. It's hard to deny when a paycheck is freshly deposited in your account. And it's in honor of my parents. That must count for something. It was also bought in attempt to add to my delicate gold ring collection. So far it's a sad party of two so investing in another was simply necessary. Does it sound like I'm making excuses yet?
sweetmamajane.blogspot.com
thehunt.com
Next, this pair of sultry heels in this seasons color front runner, oxblood. They currently reside in my shopping cart, but you can bet no matter how hard I try that won't last long. Back off, they're "cheap." The B Brian Atwood Campisa Suede Pumps are on sale on a certain beloved site of mine but I can't tell you which one in case you steal them out from under me. ;-)
hobokengirl.com
bergdorfgoodman.com
Lastly (for this week) a new pair of thick framed eyeglasses. Perhaps they will help my brain calculate better so I reach more accurate shopping totals. I'm probably not seeing all the numbers right.
shefinds.com
I can always count on myself to make a rationale/reason for everything. The best shopping philosopher. Feel free to pick my brain concerning your own weekly lusted possessions. There are things worth keeping in your shopping cart until the relieving "Sold Out" caption appears and you can move on. But then there are things worth clicking to purchase before time, money, and the appropriate season runs out.