The Beginning
Welcome to "A Girl Crush" a fashion blog meshed with beauty, life, music, and....."stuff." My blog should really be named "Girl CrusheS" because I have so many but that's neither here nor there. Sometimes my affinity for fashion and especially an affinity for women with good style, makes me wonder whether or not I should just give it up and bat for the other team. Haven't crossed that line yet but..I'm not ruling anything out. ;)My first post will be dedicated to what else?? Some of my top ranked and most stalked girl crushes. These include, but are certainly not limited to, the following.
Bohoextreme.com
Could be mistaken for a Kardashian, right? Not sure if she'd be happy about that..
Bianca Jagger was not only married to a major rock star but she had an incredible eye for adapting her own individual style. Look at her working that men's pant suit above way before menswear made its way into our own closet's. And don't even get me started on her daringly low cut look to the right topped off with one spectacular boho headpiece. I still haven't met anybody who works that headpiece as well as she does and I work at a place where everywhere I look is another person trying to emulate what BJ pulled off effortlessly.
Mary Kate & Ashley
Not at all embarrassed to admit it...I will NEVER be over MK & A, and neither should you. They won the CFDA Award, Womenswear Designer of the year and are finally publicly gaining the recognition they deserve. I can vouch for the beautifully constructed, yet amazingly comfortable and stylish, threads from their line Elizabeth & James. It breaks my heart (seriously, I could shed tears) to say I can merely vouch for them from trying their clothes on in the dressing rooms of high end department stores. I find myself literally standing in the dressing room just sighing at how much I wish I could stroll the streets in their blazers and blouses. Unfortunately, my pockets aren't yet deep enough to be able to spring for a beautiful weightless tee-shirt of theirs. The day I own an article from Elizabeth & James (most likely it will be bought on sale, but we don't need to mention that) I will fight an internal battle over whether I choose to simply hang it in my room on display and stare at it OR never, and I mean never, take it off my body.
eonline.com
Jennifer Aniston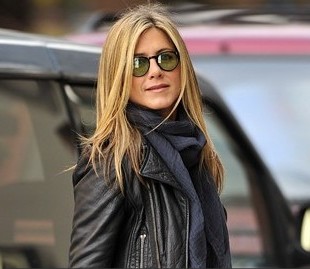 Any woman (or man, but they will be far and few between) who says they don't have a major crush on the fabulous Jennifer Aniston is LYING. She encompasses the casual, effortlessly chic and classy look so many women attempt but fail to
theshoppingproject.com
capture. Not to mention, she has great hair....my biggest downfall..but I guarantee you I have enough hair woes and jealousies to dedicate a post or two to that. Oh, and one more thing, THAT BOD! I mean c'mon, what dress wouldn't look good on that?
And lastly..but certainly not least, my most favorite girl crushes are everyday people...my friends and fellow bloggers. Except I'm pretty sure some of my favorite fashion bloggers (TheLittleBlackList, ManRepeller, Fashiontoast, Cupcakes & Cashmere to name a few) aren't normal people but were in fact birthed by fashion gods to show us earthly people how to play with fashion and what clothes and accessories were in fact made for. My friends, on the other hand, with admired style will remain nameless for now....maybe one day I'll swallow my pride and feature them in a post though ;) We'll see...I'd have to run out of topics or something...
stylebistro.com,zimbio.com,bohemeextreme.blogspot.com,fashiondeskdaily.com