thestir.cafemom.com
This post is in honor of the athletes of this years London Olympics who wore, yup you guessed it, not a medal...a leotard! If they wore a medal AND a leotard like Gabby Douglas, the cutie who took home a gold for the USA in gymnastics, then that's even better.
A leotard, or
unitard
as I like to sometimes call them are one of my favorite sports uniforms that have made a transition into a piece of fashion for my wardrobe. I now favor my
unitard's
over my once coveted Theory tank tops. Those things suck you in better than
Spanx.
But the one (or three) thing(s) Theory tank tops are lacking that
unitards
have: they kill three birds with one stone.

3.

Those three birds you no longer have to worry about with a good ole leotard are: bra, shirt/tank top, and underwear. I pretty much hate all those "necessary" things anyway. Believe me these
unitards
come in handy Monday mornings when I'm rushing to work straight from a weekend at the Jersey Shore. Those mornings are usually accompanied by several snooze buttons, a shower (if time - but necessary, in order to wash off the stench of booze), puffy eyes, and a bag full of dirty clothes. But at least I have my
unitard
. After that's on all I need are pants and shoes (fingers crossed both [of the same pair] can be found). Cuts dressing time down significantly. Very important for a lazy hungover zombie such as myself. I hope you can now picture my appreciation for this awesome creation that bears material and appearance resemblance to the tight male and female swim, track, and gymnast suits worn at the Olympics by both men (thank you) and women. I'm as grateful for a
unitard
on a Monday morning as I am for Ryan
Lochte
in his Olympic version of the bodysuit on my TV screen.
mamapop.com

See, even he got the memo floral was in this season.
Although the first shot is more reminiscent of my unitard, I do prefer him in the above.
Don't we all?
Did I mention Edie Sedgwick, Andy Warhol's infamous muse, was also a regular leotard wearer? If that's not enough to convince you of their greatness I don't know what is.
chictopia.com
marieclairvoyant.com
reasonstobreathe.tumblr.com
My favorite owned leotards are from American Apparel and Free People because they tend to push the envelope. Please note some leotards from here are not work appropriate. However, they're perfect for a night out because all though there's no "easy access," as you are wearing a full body jumpsuit, (a form of a chastity belt in itself) they've designed some daringly low front and back cuts that are just low enough to provide the right amount of intrigue without giving too much away. But be warned, if you don't accompany the outfit correctly, you will lose the intrigue and gain the slutty. For example, in case my post has been misleading, leotards should always be joined with some sort of bottom. They are not to be worn alone. You my friend, are unfortunately not in the Olympics. That would be the only excuse to adorn yourself in a bottomless leotard.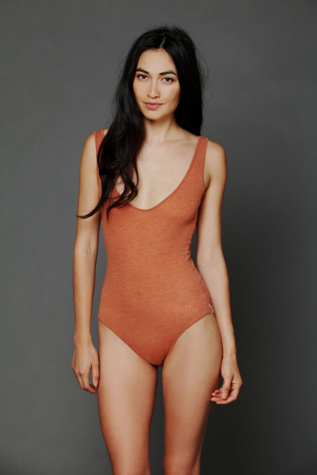 freepeople.com
American Apparel is where you can really go crazy. They have all different versions, colors, and styles. Some are even metallic if you wish to pair with your metallised bomber jacket you ran out to buy after being fueled with inspiration from my previous post. Perhaps this is why American Apparel's sales rose 13% in Q2. I solely may have had a strong hand in that escalation with my bodysuit shopping spree after my eyes were opened to the new found leotard phenomenon Memorial Day weekend.
il-gattino.tumblr.com
joanne528.tumblr.com
Check out these Prada leotards. 'sessed!
fashion.elle.com
This post is dedicated to my favorite roommate duo, Lindsay & Jess, who share in my understanding and appreciation of a fine unitard. Pictures to come of them in unitards...back up from the edge of your seat, please.