When I think about all the upcoming new fall fashions, I am most excited about
"the snedge."
The marriage of a sneaker and a wedge. This marriage is way more appealing, and one can only hope more long lasting, than any two celebrities we've seen in the last decade. I love kickin' it in sneakers just as much as the next tomboy but I've always envied how much better girls with those fucking skinny legs for days look in the flat, comfortable, yet painful to admit but...unflattering, things. Damn genetics! Well, hopefully I can fear no more. I picture snedge's to the rescue on mornings where I'm looking for that extra bit of height or could use some slimming assistance in the shoe department and my beloved Converses just won't cut it. All still accompanied with the casual comfort and effortless look of your traditional sneaker.
chanelaftercoco.blogspot.com
Don't get me wrong, I'll always love my fabulous chucks pictured above. They were the first type of sneaker I owned after all. A pink tweety bird high top pair to be exact. I just hope they don't feel too neglected when occasionally shoved aside this fall/winter in preference of, tah dah! A sneaker with a wedge.
Now that I paid my Converses some dued respect...time for the snedge's. Isabel Marant has definitely sealed a spot in my book as THE goddess of the wedged sneaker design. I'm partial to the all black. However models, namely those Victoria Secret masterpieces, appear to love her shoes in the navy & red. Yea, I probably would too if I had Miranda Kerr's stems.
followgram/elle_ferguson
My favorite Girl Crush sportin' these ultra chic kicks is Elle Ferguson, 1/2 of the duo behind the blog They All Hate Us. Ok...now I also have a confession. I join forces with the crazed teeny boppers around the world when it comes to one thing: Justin Bieber. I have to say, I get it. When I see Elle Ferguson in these wedged sneakers I see a hint of Bielieber style behind it. Except with her incredible tops to match and beautifully highlighted & just curled enough hair to look effortless, her style trumps Bieber's ten fold. Sorry, JB. I'm sure she can't dance like you.
followgram/elle_ferguson
See what I mean? Girl Crush x 10. Now, I just need a jean vest like that, legs like that, and a couple more trips to the hair salon for some highlights. Oh! And a lesson with my curling iron wouldn't hurt either. We currently don't get along too well.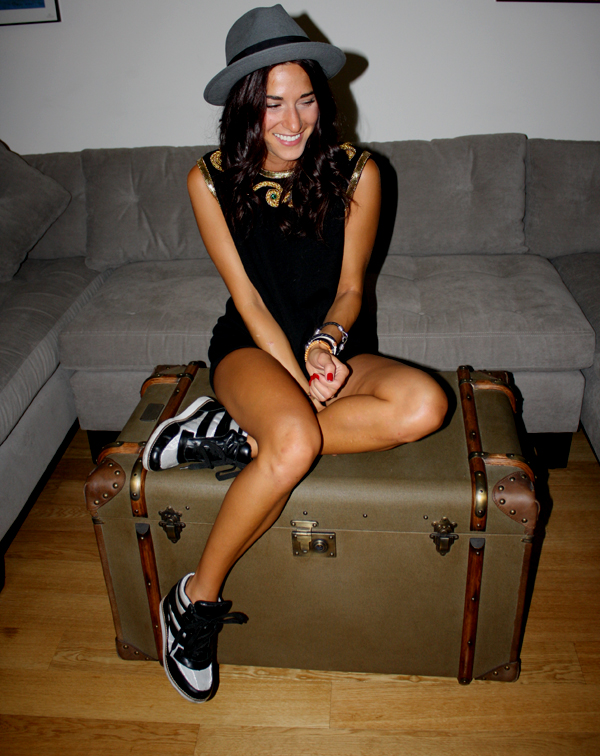 thelittleblacklist.com
If your wallets on the thinner side like mine, don't worry, we're not left in the dust on the wedged sneaker bandwagon. Jeffrey Campbell has designed a strikingly similar line of wedged sneakers. I'm willing to bet his wedge has quite a few inches on Isabel Marant too. In his typical no height's too high way. See one of my favorite bloggers Tess (also a major Girl Crush) in a JC version. Crossing my fingers I'll soon get my hands on my very own pair. Look out JB, GC's are stealing your "look" and owning it.