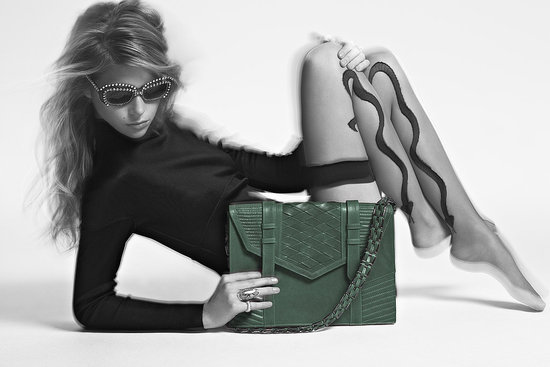 Designer Spotlight - Reece Hudson
Reece Hudson is an Italian designer handbag collection that has recently rose to the forefront of my radar & birthday list (October 15th people). Namely because the F/W 2012 collection includes a piece of fashion brilliance. Is it a bracelet? Is it a bag? Is it a bag chained to my wrist so it'd be sheer insanity if I managed to lose it in a drunken stupor? The later happens more often than you'd think. Well, yes. It's all the above. Not to mention incredibly snazzy and gorgeous. For an absent minded life of the party individual such as moi, a purse chained to my already obnoxiously bracelet covered wrist is exactly what I need. After a chronic leaving clutch on bar, losing clutch, waking up next morning sans clutch to realize it's gone spree, I switched over to the more practical, less compact, cross body bag trend. However, with turning the milestone quarter century this fall, I feel exploring a new age clutch covered in gorgeous lucite like the two below might just be in the cards. And it's chained to my freakin' wrist for petes sake! Baby steps toward fashion maturity.
reecehudson.com + agirlcrush instagram





manrepeller.com
Finding a price, even in the ball park, for these bad boys was near impossible with just the internet. Sadly though I couldn't shield my eyes from exposure to the fact Reece Hudson bags (and far less fancy) typically seemed to topple somewhere over the unavoidable grand mark. Rationalizing expensive purchases is something that comes amazingly easy to me. So, in the case for the beauties above, the part where the bag is chained to my wrist, granting minimal, if any, losing ability, while adding to my arm candy collection of bracelets is 100% the selling point I'm running with. What's yours? Also, if any readers know the price of these - let a girl know. I was too apprehensive to call Reece Hudson directly and have my heart broken with 5 digit possibilities.
Some equally stunning Reece Hudson bags..
publishedseoul.blogspot.com
wwd.com


1/2 of the Reece Hudson design duo...
stylecaster.com
tovoegueorbust.com
becauseimaddicted.net
dailycandy.com